Stainless Steel Bird Spikes
Nixalite Bird Spikes are the highest quality and most successful bird barrier spikes on the market. Nixalite invented and patented the world's first bird spike in the Fifties. Today we offer 8 different bird spike models to meet all budgets, infestation levels and bird types including sparrows, pigeons and seagulls. All our stainless steel bird spike models are proudly made in the USA by Nixalite of America Inc.
For all bird types and all levels of infestation check out our Nixalite Premium Bird Barrier Spikes. If the budget is tight, try our low-cost E-Spike and Pigeon Spike Stainless models for pigeons and seagull control. We have something to fit every bird control problem.
Nixalite offers an extensive line of effective and humane bird spikes for an endless number of applications. If you're not sure which product to choose, please call us for expert advice on the best bird spike for your application and budget.


Bird Spike Comparison Chart Use this chart to quickly compare Nixalite's line of bird control spikes.
Nixalite Premium Bird Spikes
The All American Family of Stainless Steel Bird Spikes
Nixalite's Premium Bird Barrier Spikes are an all stainless steel bird & animal control spike that deters all pest birds and climbing animals, in all infestation levels and on all types of installation surfaces. Mounting hardware is included with all Premium orders. It repels ALL birds including pigeons, seagulls, sparrows, starlings, swallows, black birds, crows, and vultures as well as all types of climbing animals including squirrels, raccoons, cats, rodents and even snakes!
Nixalite Premium Bird Spikes are the most effective and best selling bird spikes!
E-Spike Economy Bird Spikes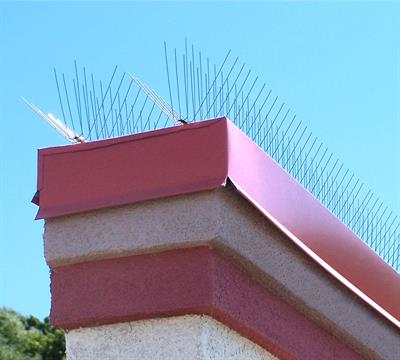 E-Spike is a member of the Nixalite All American, All Stainless Steel Bird Spike family. It is an affordable, all stainless steel bird deterrent spike for pigeons and seagulls. One Full Row model can cover up to 7″ of surface. E-Spike is flexible, long lasting and economical.E-Spike Pigeon & Seagull Eco-Spike Stainless Steel
100% high grade stainless steel construction makes it UV and fire proof
Made in the USA from stainless produced in the USA
E-Spike Full Row is 6" wide, 4" high and has 48 points/foot
E-Spike Half Row is 3″ wide, 4″ high and has 24 points/foot
E-Spike comes in 2 and 4 ft lengths with either pointed or Blunt Tip wires
No assembly, E-Spike comes ready to install
Flexible 1/4″ base that follows surface shapes
Available in ColorCoat® colors
Install with Optional Hardware, Installation Accessories or Adhesive
Bird Spike Comparison Chart
Automated Estimate Worksheet
Installation and Troubleshooting Guides
E-Spike 15 Year Warranty 
Pigeon Spike – Stainless Steel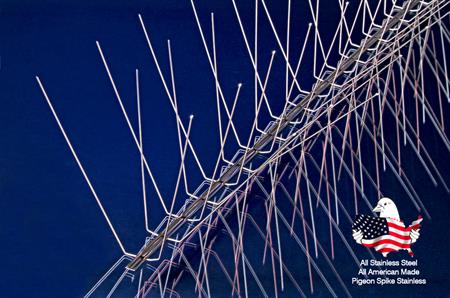 Nixalite's Pigeon Spike Stainless Steel Bird Spikes are the most affordable all stainless steel bird spike for pigeons and seagulls. One row of Pigeon Spike Stainless can cover up to 7″ of surface. Each strip is flexible, long lasting, economical and available in 2 or 4 foot lengths.

Bird Spike Comparison Chart
Automated Estimate Worksheet
Installation and Troubleshooting Guides
Pigeon Spike Stainless 10 Warranty