Three years ago, Dallas Baker decided he'd had enough of mosquitoes. So he decided to wage war against the pests.
"I got zinged. There, and up there, and one on the back," the 73-year-old said, pointing to mosquito bites on his face and neck. "I couldn't take it anymore."
A former Omaha Police officer, Baker said the mosquitoes at his home, bordered by a wheat field and small creek in a quiet neighborhood on the outskirts of Seward, were so bad he felt like a prisoner in his own home.
So, he started researching.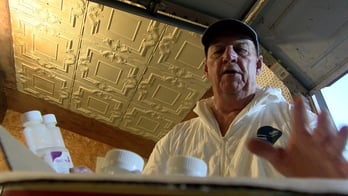 He found out what chemicals professional mosquito sprayers used and had them shipped in from Georgia and Florida.
Then, Baker says he got his hands on a spray 'gun' – built from the same jet engines used to power German missiles in World War II – to distribute his mosquito-slaying mixture.
"It's like baby oil," Baker said of the concoction. "Really refined."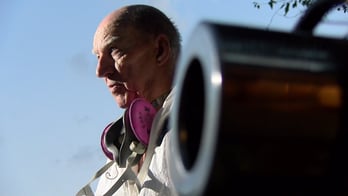 Strapping his "weapon" of choice to the back of his Cub Cadet riding lawn mower, Baker dons a white hazmat-style suit and a bright pink oxygen mask and rides around the neighborhood, spraying for 'skeeters.
"It was a little eerie," neighbor Tom Thall said, recalling the first time he saw Baker driving through his yard. "It (the smoke) engulfed the entire neighborhood."
Three years later, Thall says it's no longer a strange sight, rather, a welcomed one.
"He's doing it for the whole neighborhood," he said. "Who does that nowadays?"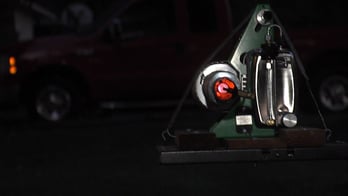 The neighborhood as a whole supports Baker's spraying, and many have offered to chip in to pay for the chemicals he uses.
Despite a personal investment of over $5,000, Baker refuses those offers each time – opting for a sweeter form of payment.
"The (neighbor) next door, she gives me brownies," Baker said. "The one on the corner, she gets me fudge."
Baker says his service is simply par for the course of the neighborhood, where he says people often help each other with errands and favors.
"Everyone takes care of each other," he said.
While he sprays for the entire neighborhood, Baker says he pays special attention to a few houses where the owners have battled or are currently battling cancer – something he knows plenty about.
"The neighbor across the street, he's got cancer. The one on the corner, he's in remission," Baker said. "So we're all three in the same boat."
Baker's bout with cancer came three years ago, and was, aside from the general annoyance of the pests, the catalyst that got him spraying.
It's a job well-done, his neighbors say.
"Dallas is the epitome of that person who just cares about others," Thall said. "We're very appreciative."
And Baker says it's a job he's happy to do.
"We're doing it the Nebraska way – neighbors helping neighbors," he said. "That works for us."
Watch the Video
Pulse Jet Thermal Foggers
Pulse Jet Thermal Foggers are ideal for mosquito and flying insect control, crawling insect control, bird repellent fogging, smoke/odor abatement, heavy commercial fogging, military and police force training, special effects and more. These fog liquid oil and water-based solutions over large open areas or areas that are heavily obstructed (vegetation, landscaping, stored products, etc). Pulse Jet Thermal Foggers use hot exhaust from a pulse jet engine to create large quantities of fog without burning off the fogging solutions active ingredient.
Nixalite of America is the only authorized distributor and service center for IGEBA Thermal and ULV Fogging Equipment serving the United States and Canada.
Let Nixalite help you decide on the product you need. We offer complete planning and product support services. If at any time you have questions, please Contact Nixalite.