Congratulations to our September Photo Contest winners!
Thanks again to everyone that submitted photos.  The winners have been chosen!

1st Place – Bill Holsonback
North Pen School District
Lansdale, PA 19446
$200.00 Visa Card"We had a major bird problem at the entrance to one of our elementary schools here. We tried several different options with poor results. It was an unhealthy situation with a walkway covered in bird droppings leading into the school. I installed nixalite bird netting and problem solved. Everybody loves it."
Products Used: K-Net HT 3/4″ Bird Netting and associated hardware.
K-Net HT Bird Netting
Our Strongest and Best Bird Netting!
Available in both black and stone (tan) colors. Use K-Net HT for architectural, aqua-cultural and agricultural bird exclusion applications. The 3/4" square mesh keeps out most all pest birds. Pound for pound K-Net is the strongest bird and barrier netting available.
---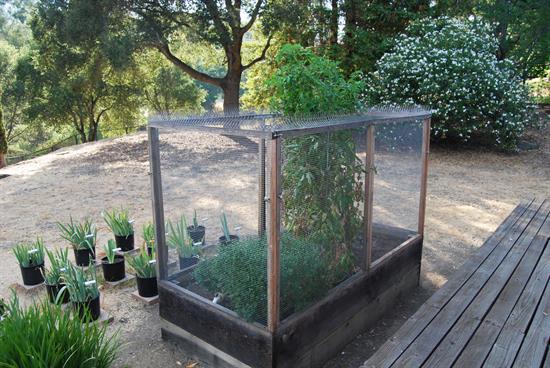 2nd Place – Charlie Conklin
Saratoga, CA 95070
$100.00 Visa Card "Here is a picture of a Nixalite protected tomato vine, no more squirrel robbery and a big decrease in bird activity." – Charlie
Charlie used Model S Bird Spikes to install on the top of his enclosure to protect the tomato plants growing inside.
Products Used: Premium Model S Nixalite Strips
Nixalite Premium Bird Spikes
Nixalite Bird Spikes are the highest quality and most successful bird barrier spikes on the market. Nixalite invented and patented the world's first bird spike in the Fifties. Today we offer 8 different bird spike models to meet all budgets, infestation levels and bird types including sparrows, pigeons and seagulls. All our stainless steel bird spike models are proudly made in the USA by Nixalite of America Inc.